---
Cardigan Mountain School
La Boarding School
La bellissima Cadigan Boarding School è situata in un luogo incantevole nel New Hampshire, New England, al confine con il Massachusetts e a due ore e trenta da Boston. La scuola come il paesaggio circostante sono un coinvolgente invito a vivere un'esperienza linguistica, culturale e sportiva all'insegna di standard qualitativi di eccellenza. Le aule, la mensa e le camere sono allo stato dell'arte, e gli spazi dedicati alla didattica sono espressione di metodologie didattiche all'avanguardia. Le attrezzature sportive rappresentano perfettamente l'eccellenza statunitense nello sport: campi da tennis, da basket e di atletica, palestre, percorsi trials, i quali uniti alla house boat, alla spiaggia della scuola e al C.O.R.E. base camp creano un ambiente perfetto per studenti americani ed internazionali di 8-15 anni.
Corsi e Attività
La lingua viene appresa attraverso esperienze concrete e fortemente comunicative, in compresenza con studenti americani (155 studenti di cui il 65% è statunitense e il resto proviene da tutto il mondo). È presente un insegnante/tutor ogni tre bambini/ragazzi.
La programmazione è così strutturata:
Morning Classes: si svolgono dalle 9:00 alle 12:30 e gli studenti scelgono in tutto cinque topic tra le materie sotto elencate:

Arte: danza, teatro, lavori con l'argilla o il legno, pittura, fotografia, Storia dell'Arte.
English: Reader's Workshop, Writer's Workshop, Journalism, Creative Writing, Coming of Age Stories, altro.
Essential Academic Skills: Student Organization, Public Speaking, SSAT Preparation, Interview Skills, altro
Social Studies: Greek and Roman Mythology, Roman History, Global Issues and Current Events, Sports Psychology, altro.
Matematica: fondamenti, geometria, equazioni, funzioni lineari, introduzione alla trigonometria, linguaggio di programmazione computer, altro.
Scienze: ambiente, Astronomia, robotica, nutrizione, analitica forense, altro.
World Language: Latino, Francese, Giapponese, Spagnolo, Cinese Mandarino, altro.
Inglese come lingua straniera: lettura, scrittura, conversazione, argomenti di Storia americana, presentazioni, altro.

Attività pomeridiane: dopo pranzo dalle 15:00 in avanti i ragazzi svolgono interessanti e coinvolgenti attività pomeridiane, a scelta due tra le seguenti proposte: nuoto, canoa, kayak, Paddle Boarding, vela, arte, ginnastica, arti marziali, basket, Lacrosse, calcio, Street Hockey, tennis, frisbee, yoga, Flag Football, mountain biking, avventure in campeggio, badminton, tiro con l'arco, equitazione, Cross-Country Running, arrampicata, teatro di improvvisazione, giochi da tavola.
Attività serali: dopo cena dalle 19:00 in avanti si svolgono le attività serali quali Color War, Battle of the Brains, STEM Night, talent show, competizione di poesia, basket, musica, caccia al tesoro, altro.
Durante il weekend vengono organizzate attività extra ed escursioni: beach day, visite a musei, mini golf, pattinaggio sul ghiaccio, parco acquatico, luna park, film making, rafting, equitazione, magia, shopping, altro.
La Sistemazione
In College: in boarding house separate per maschi e femmine, nelle quali gli studenti sono sistemati in camere doppie con bagno condiviso al piano. Il trattamento è di pensione completa con pranzi caldi (durante le escursioni sono previsti pranzi al sacco). Disponibile il servizio di lavanderia.
Date e Costi
Età: 8-15 anni
Arr. / Part.: Sab. / Sab.
Date: 1 - 29 Luglio 2023 (4 settimane)
Quota di Partecipazione* 2023: € 9.900,00
Il Soggiorno Studio TSA comprende:
Corso di 4 settimane x 18 h/sett.
Materiali didattici
Escursioni ed attività pomeridiane/serali come programma
Test iniziale, rilascio del Certificato di fine corso
Sistemazione in College
Trattamento di Pensione Completa
Assicurazione Medica
Cauzione $500 per spese in loco (saldo rimborsato a soggiorno concluso)
Supervisione 24h da tutor preposti
Assistenza 24h TSA
La quota non comprende:
Volo aereo, ESTA e Transfer aeroportuali (su richiesta)
Quota servizi e supporto TSA € 130,00
*verificare disponibilità
---
Immagini della scuola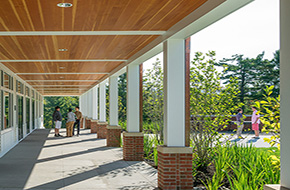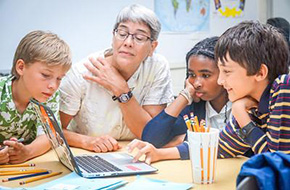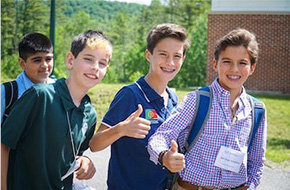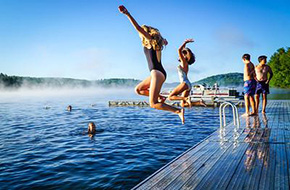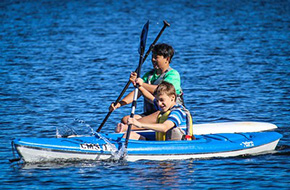 Informazioni su Canaan
Canaan è un comune degli USA facente parte della contea di Grafton nello Stato del New Hempshire, caratterizzato da pittoresche cittadine e ampie zone selvagge. A nord il White Mountain National Forest è conosciuto per gli sport invernali praticati sul monte Washington, la vetta più alta della regione. Nelle White Mountains vivono alci e orsi bruni, e sempre qui si trova una parte dell'Appalachian Trail. Canaan si trova a 2,5 ore da Boston e 3 ore da NY.
Location
62 Alumni Drive Canaan, New Hampshire 03741
mappa