---
Lucy Cavendish College






Il College
Il Lucy Cavendish College è uno dei 31 college della celeberrima Università di Cambridge, a 10 minuti di distanza dal centro città. Si tratta di un college moderno, con strutture educative e sociali di alta qualità e una sistemazione residenziale eccellente. Il campus si trova in posizione isolata e sicura, è dotato di giardini spaziosi, aule moderne e ben attrezzate, una sala da pranzo che serve ottimi pasti caldi e freddi, aule computer con accesso Wifi, un teatro, una student lounge, una piscina, campi da gioco e una palestra.
Corsi e Attività
I corsi si pongono l'obiettivo di insegnare in modo efficace, ponendo la comunicazione e l'espressione di sé al centro di ogni attività. Tutti gli insegnanti sono madrelingua laureati con certificazione specifica per l'insegnamento a studenti non madrelingua inglese.
Il programma, denominato "Sir Laurence", è così composto:
Corso di Inglese articolato su 28 lezioni da 45' l'una. Il tema del campus è "Cambridge University Discovery" e le lezioni vertono su argomenti d'interesse che aiutino a migliorare il vocabolario, la grammatica e praticare le abilità di comunicazione. Gli argomenti possono essere: famous Cambridge students, sporting traditions, scientific discoveries, Union Society debates, university of Cambridge's unique history, comparing Cambridge with universities around the world.
Attività Interdisciplinari, il programma comprende dal lunedì al venerdì 9 sessioni a settimana di attività sportive come calcio, tennis, pallavolo, oppure culturali e artistiche, come arts & crafts e ricreative come "Cambridge University alumni treasure hunt". Incluse nel programma una visita guidata alle parti più "nascoste" di Cambridge e una presentazione degli alunni dell'università.
Ogni settimana un'escursione di un'intera giornata, durante la quale è possibile visitare posti come Londra o il Warwick Castle.
Attività serali, si ha la possibilità di partecipare alle serate organizzate (welcome party, cinema, quiz e giochi, karaoke) durante l'arco dell'intera settimana.
La Sistemazione
In College: camere singole e doppie con bagno condiviso. Il trattamento è di pensione completa all'interno del campus. Incluso nel pacchetto l'uso della lavanderia.
Date e Costi
Età: 12-16 anni
Arr. / Part. - Dom. / Dom.
Periodo (1+ settimane): 4 Luglio - 15 Agosto 2021
Quota di Partecipazione 2021: € 3.050,00
Il Soggiorno Studio TSA comprende:
Corso di 2 settimane x 28 lezioni/sett.
Materiali didattici
Test iniziale e rilascio del Certificato di fine corso
Sistemazione in College
Trattamento di Pensione Completa
Assicurazione medico-bagaglio
Assistenza 24h TSA
Transfer in UK nei giorni, orari ed aeroporti previsti
La quota non comprende:
Volo aereo (su richiesta)
Quota servizi e supporto TSA € 130,00
---
Immagini della scuola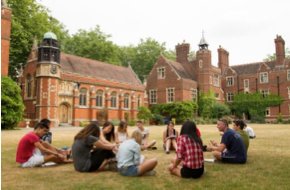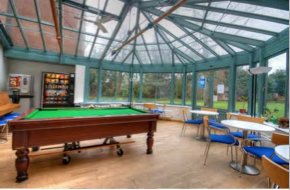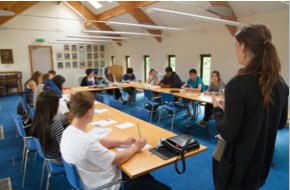 Informazioni su Cambridge
Città prestigiosa e rinomata nel mondo intero, sinonimo di eccellenza da più di 700 anni, Cambridge è conosciuta in particolare per i suoi college universitari. La cittadina è tipica anche per i gondolieri, sotto il ponte dei Sospiri del St. Jonh's College lungo il Cam, un fiume costeggiato da immensi prati fioriti: un abbinamento unico tra un'architettura antica ed una vivace esperienza universitaria. Cambridge propone una scena culturale in espansione e vari festival estivi.
Location
Lady Margaret Rd, Cambridge CB3 0BU
mappa